金鉴智能体温筛查机英文版介绍(Intelligent Infrared Fever Screening Machine)发布时间:2020-05-23
Intelligent Infrared Fever ScreeningMachine :
The Infrared Temperature measurement Machine of Big Data Body Temperature Monitoring, Face Recognition and Attendance Access Control
After the successful development of amicro-infrared thermal imaging system (Please check the article: Equipmentintroduction and case sharing of GMATG micro-infrared thermal distributionsystem金鉴显微红外热分布测试系统设备介绍和案例分享), GMATG has newlydeveloped the intelligent fever screening system, which can be used insupermarkets, schools and other crowded places.(Pleaseclick to see the introduction of the device in Chinese:金鉴智能体温筛查机——大数据体温监控+人脸识别+考勤门禁的红外测温设备)。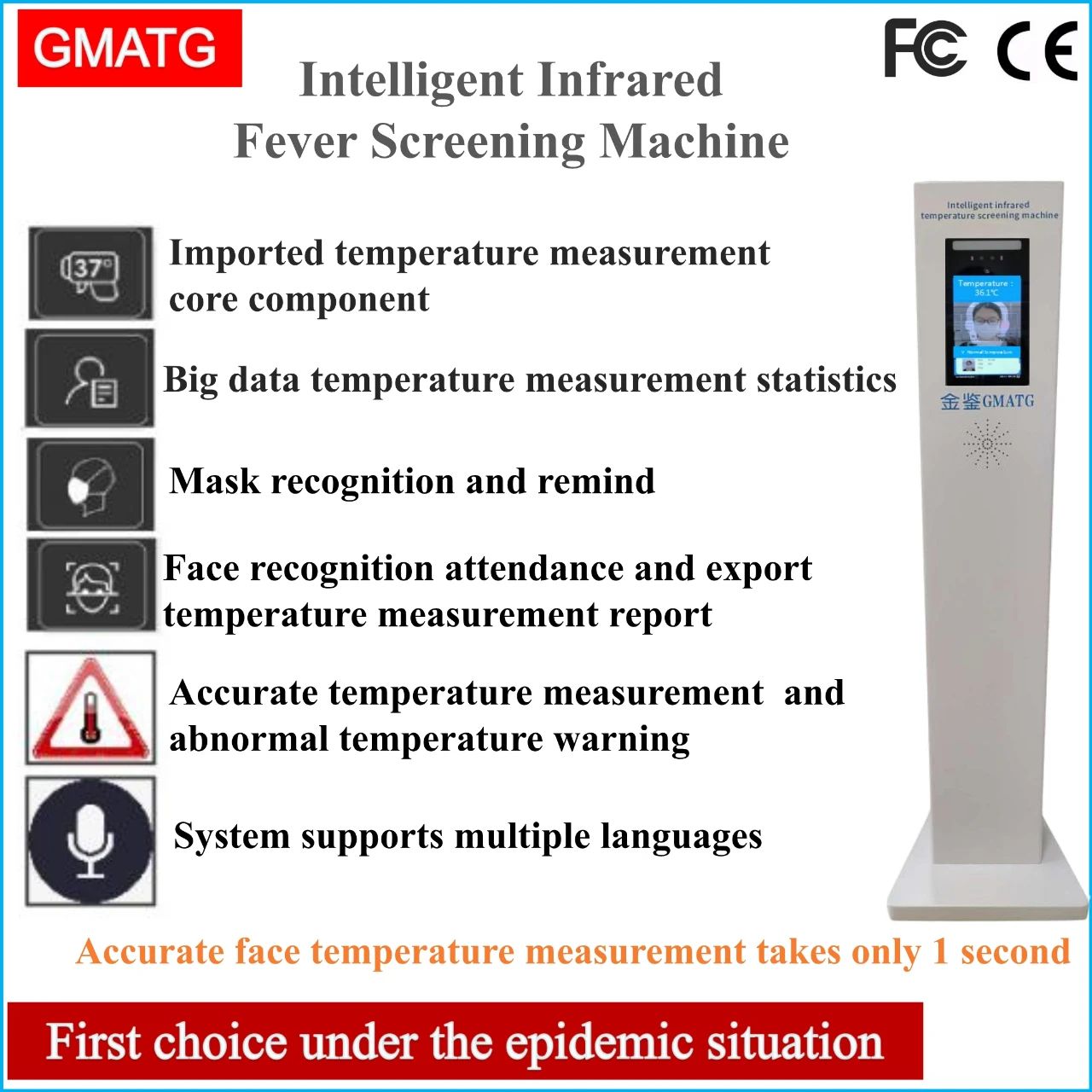 Intelligent infrared fever screeningmachine can screen body temperature rapidly. It is an infrared temperaturemeasuring device that integrates functions of big data body temperaturemonitoring, face recognition, attendance and access control. It has the advantagesof high-precision, fast temperature measurement, clear imaging and automaticalarm; and can be used for tracing people with abnormal temperature safely,accurately and rapidly.
Under the epidemic situation, Intelligentinfrared fever screening machine of GMATG can provide integrated functions oftemperature screening, attendance and access control. After the epidemic, itcan be used for attendance and access control.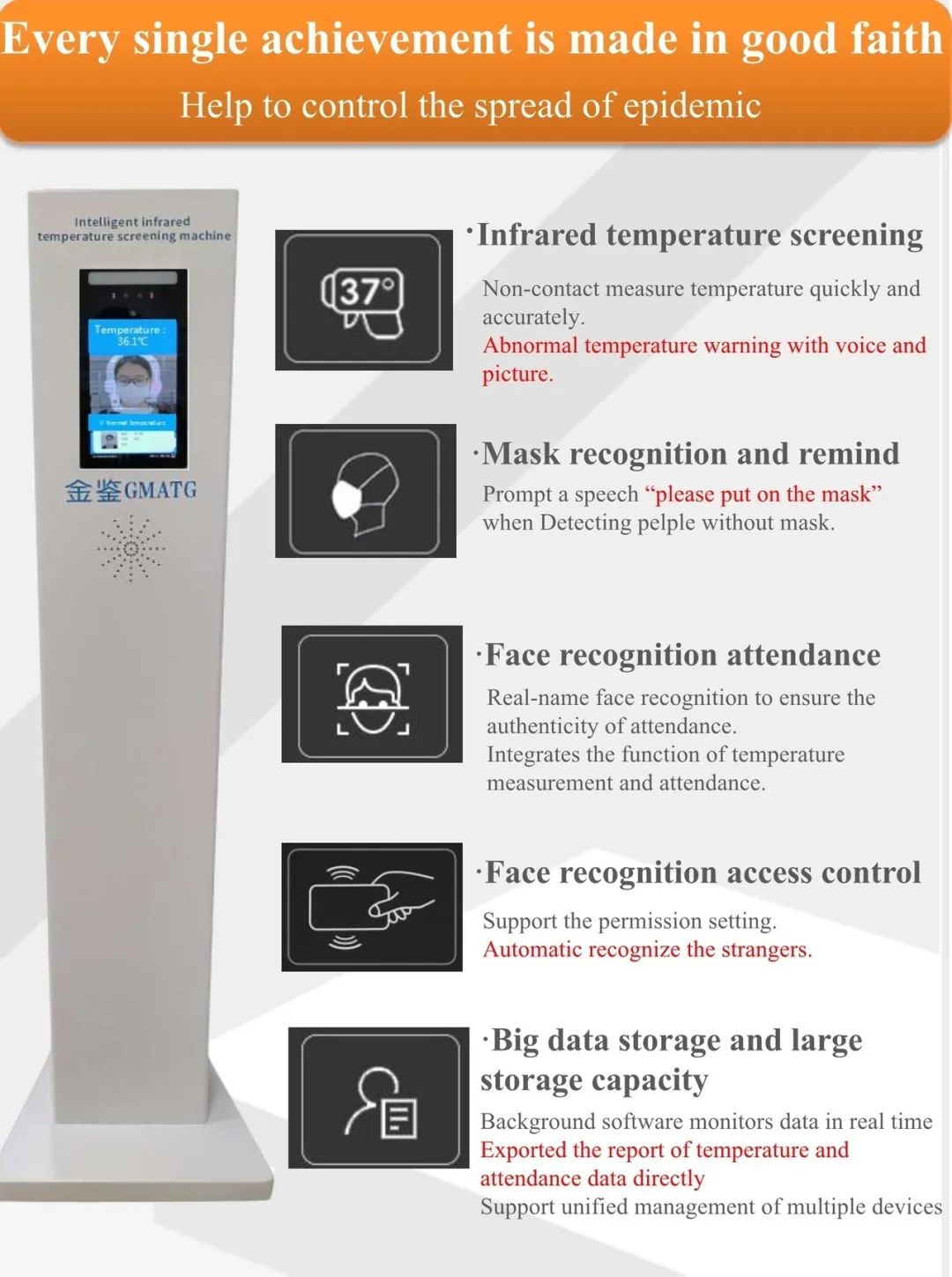 Equipment R & D Background
Previously, GMATG has developed amicroscopic infrared thermal imaging system successfully, which is designed formicroscopic thermal imaging and is used to observe the infrared heatdistribution of micrometer-level chips. Based on the research of microscopicinfrared thermal imaging system technology, GMATG successfully developed anintelligent fever screening system that integrates infrared thermal imaging andface recognition. This system can be applied to body temperature screening incrowded places such as supermarkets, schools and so on.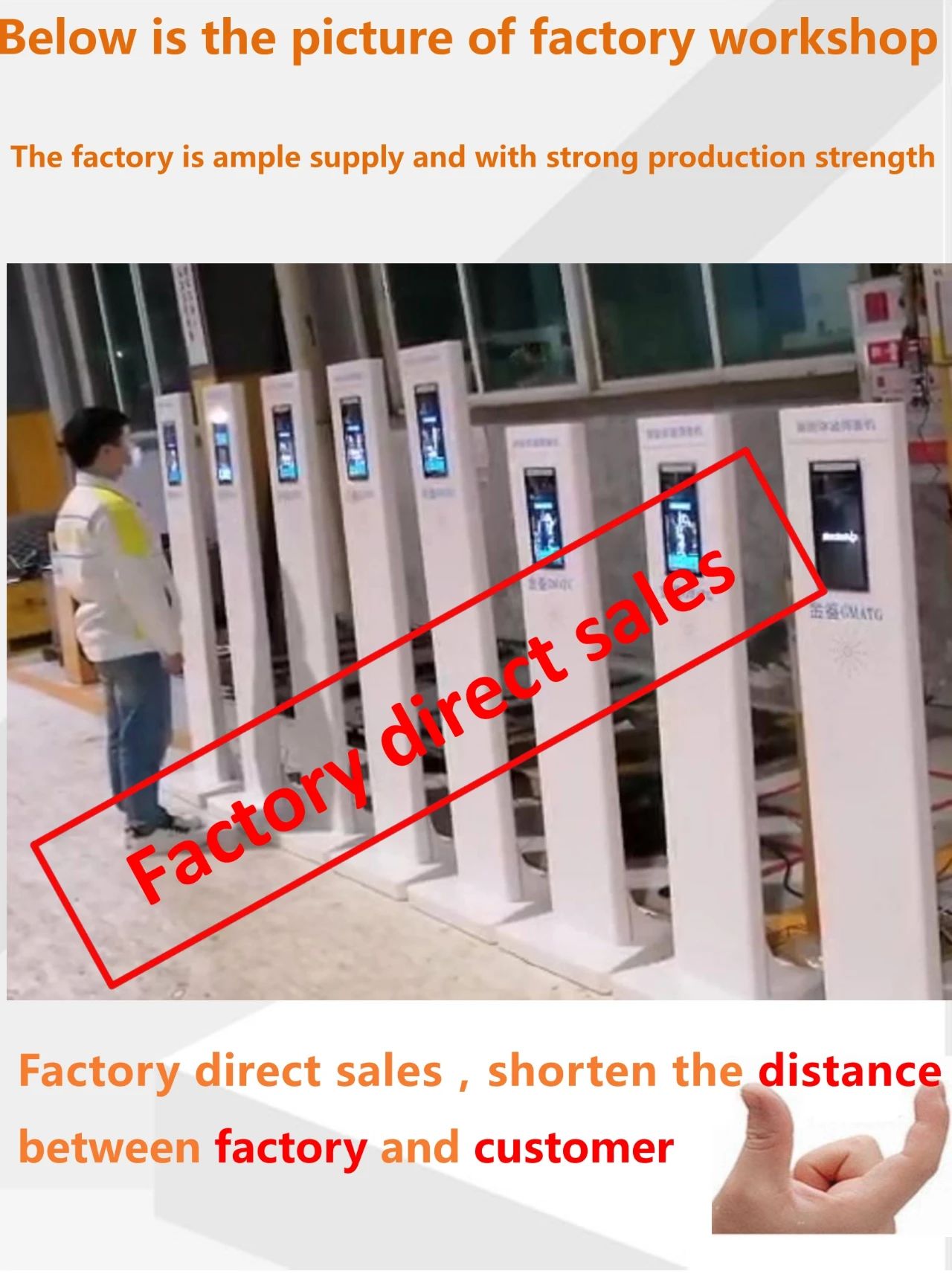 ▲A batch of Intelligent infrared feverscreening machine of GMATG have passedthe test and are out of the warehouse
Principle of thermometry
In nature, all objects can radiateelectromagnetic waves as long as their temperature is above absolute zero (-273° C). Thermal imaging mainly collects light in the thermal infrared band(8μm-14μm) of objects to detect thermal radiation emitted. Thermal imagingconverts thermal radiation into gray values, obtain temperature measurementalgorithm model (temperature gray curve) by the calibration of blackbodyradiation source to establish the precise aationship between the gray level andthe temperature, and to realize the temperature measurement function. Infraredthermal image has the advantages of safety, no radiation and no harm to humanbody.
Intelligent infrared fever screeningmachine of GMATG use the matrix thermopile sensor imported from Japan as thecore component of temperature measurement and combined with a unique human bodytemperature measurement algorithm to output body temperature. Besides, it useshigh-definition face recognition lens to integrate face recognition technology,voice interaction and thermal imaging technology, and use HD face recognitionlens to integrate face recognition technology, voice interaction and thermal imagingtechnology, to realize the function of identification, temperature measurementand body temperature monitoring of a large number of people quickly, helping tobuild the first line of defense for epidemic prevention and control in majorplace.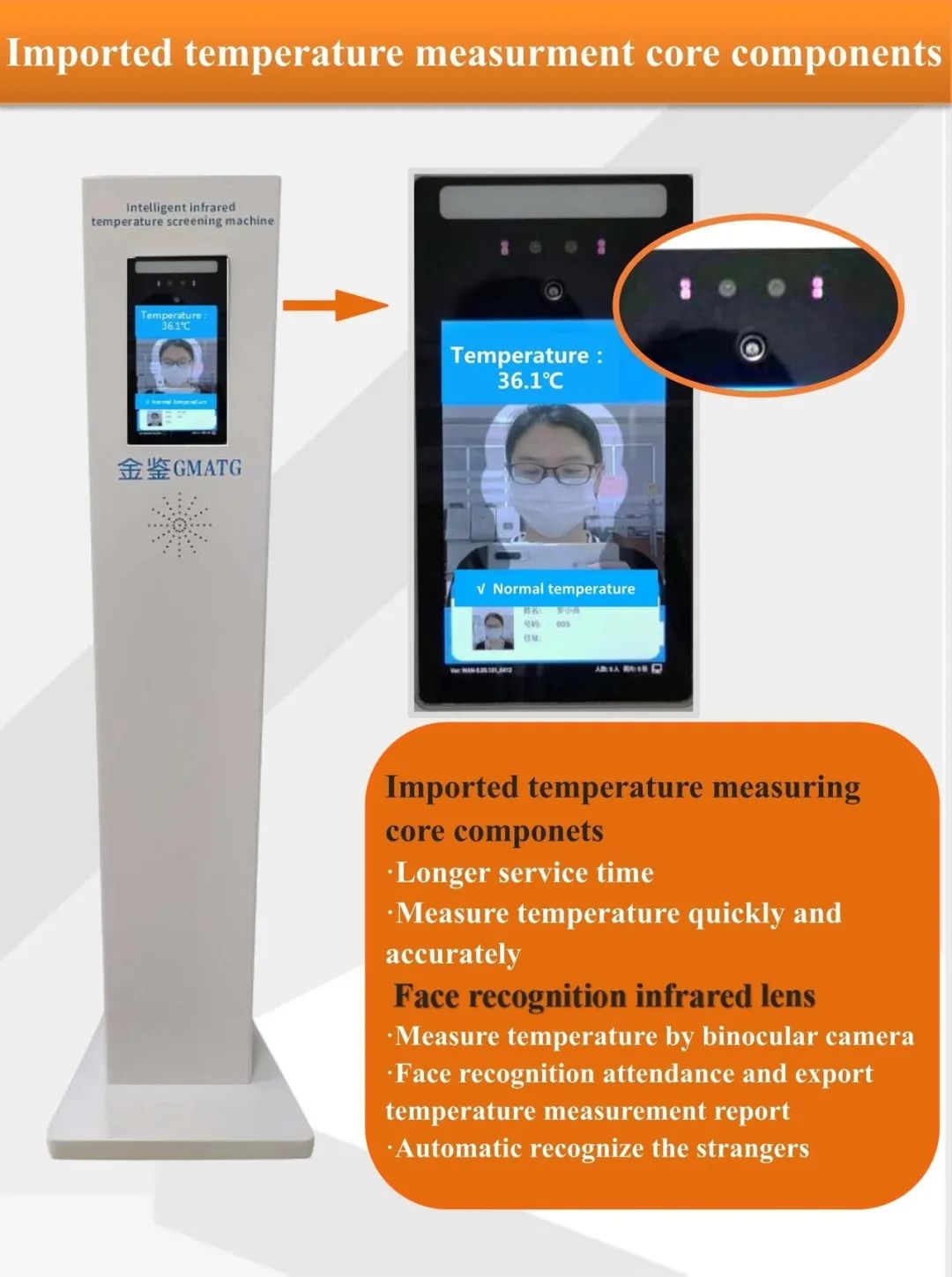 Application Place
1. Body temperature monitoring: Schools,residential areas, supermarkets, banks, enterprise and institutions, government agencies, stations, docks andother densely populated entrances and exits.
2. Attendance and access control: Intelligentattendance and access control for factories, enterprise and institutions,government agencies, etc.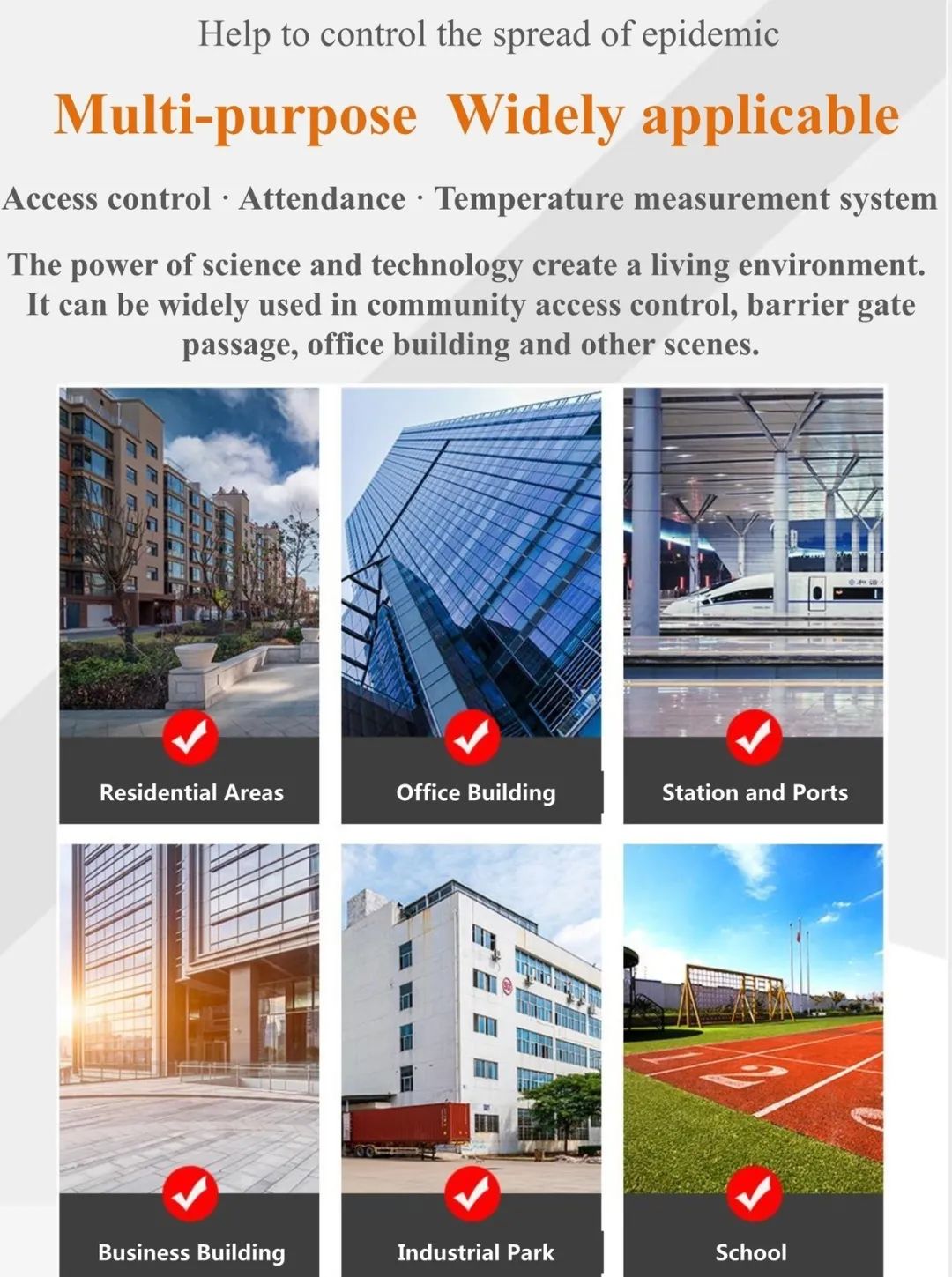 Features and functions
1.Intelligent automatic temperaturemeasurement, no need for labor, cost saving
Intelligent infrared fever screening machineofGMATG use imported infrared temperature measurement sensor, RGB and living bodydynamic binocular high-definition camera, and use dynamic face detectiontechnology that based on video stream. It can automatically capture the bodytemperature, and self-service rapid temperature measurement reduces labor costsand improves efficiency.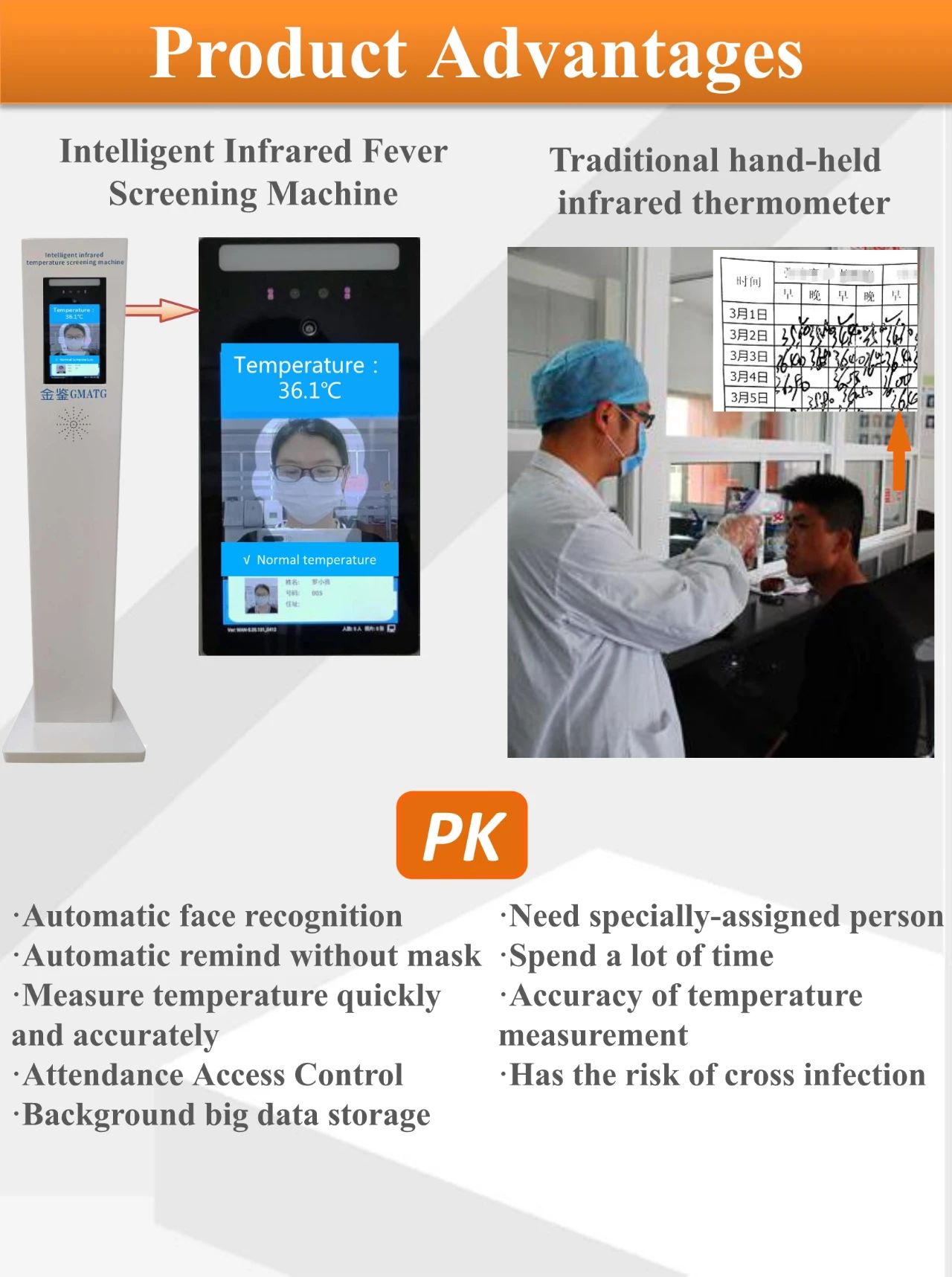 2.Non-contact temperature measurement,measure temperature accurately and rapidly.
It supports instantaneous continuoustemperature measurement, non-contact temperature measurement, which is saferand more hygienic during epidemic. It can measure the current temperature whenthe face is aligned with the screen face mask for 2~3 seconds (If there aresome outside factors that may affect the temperature measurement, measuretemperature continuously without changing posture).
3.Recognize the mask intelligently andautomatic remind you to put on the mask
Intelligent infrared fever screeningmachine of GMATG has the intelligently function of detecting the mask. Therewill a voice warning "please put on the mask" when detect people withoutwearing mask automatically, which improves the efficiency of check peoplewhether wears a mask or not.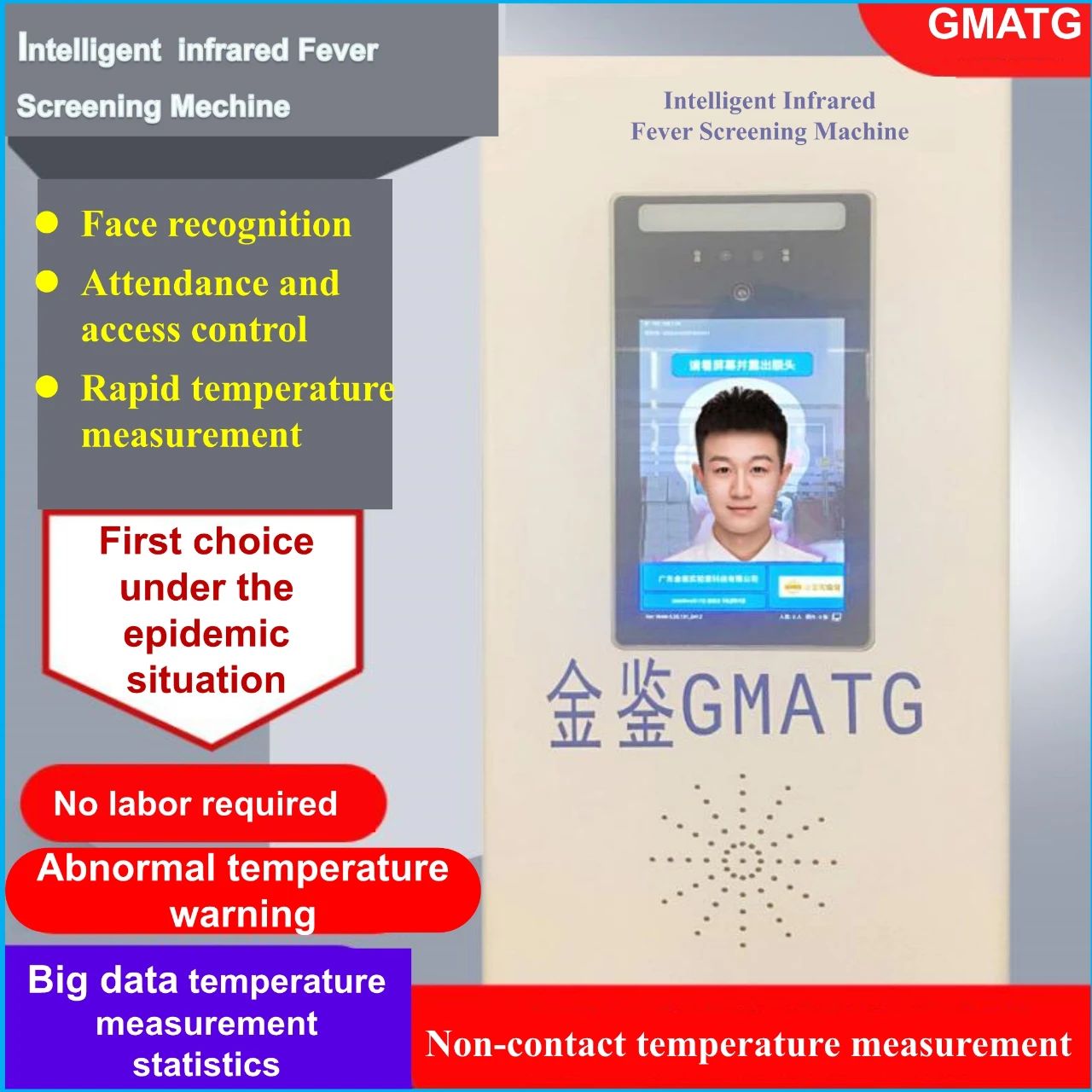 4.Voice and screen double alarm whenmeasuring abnormal temperature, abnormal temperature data can be tracking.
In response to the current corona virusepidemic, Intelligent infrared fever screening machine of GMATG defaults to37.3°C as the high temperature alarm value (which can be set to other valuesfreely). It will immediately prompt with sound and picture alarms whendetecting the fever people, which prevent the spread of epidemic in publicplaces effectively. The measure temperature personnel can be managed in groups,measure record can be stored in the background, and the abnormal temperaturefever people can be traced back.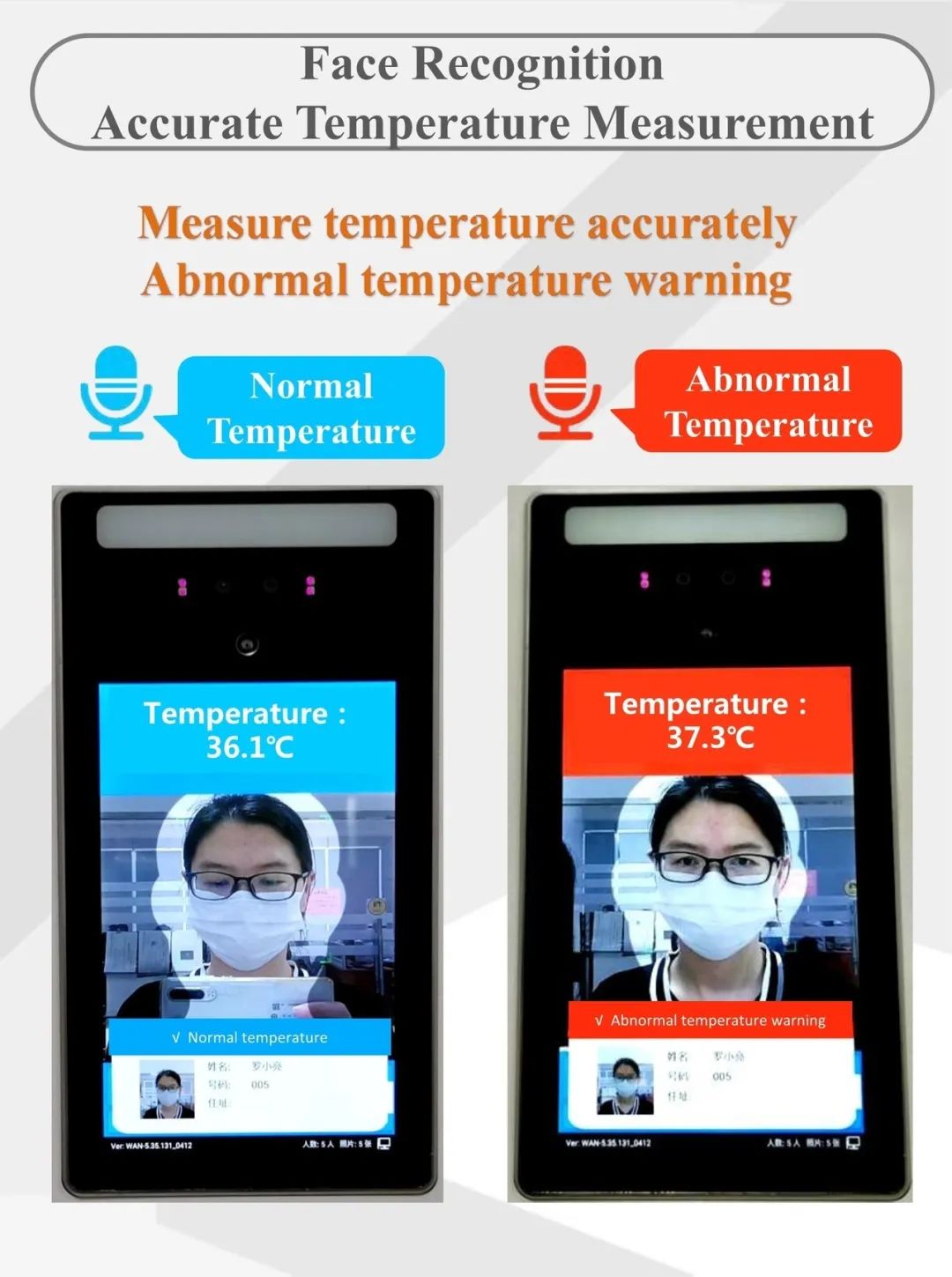 5.Real-name face recognition to realizeintelligent attendance and access control functions
The machine supports storage personnelinformation in the background, and realize the intelligent management ofpersonnel attendance by face recognition technology. At the same time, themaching support permission settings, automatic recognize strangers, to achieveintelligent personnel access management.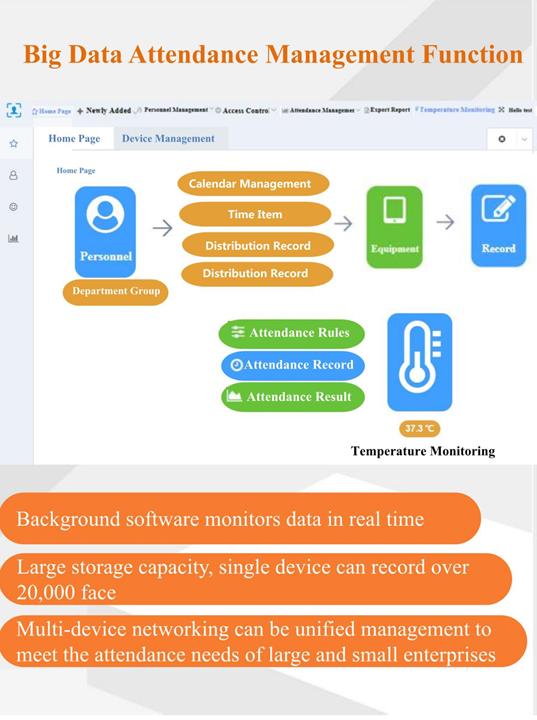 6. Report measure temperature by voice, andthe system supports multiple languages
Machine can report the current measuretemperature by voice. The system supports the multiple language, such as simplifiedChinese, traditional Chinese, English, Japanese, German, Italian, French, etc .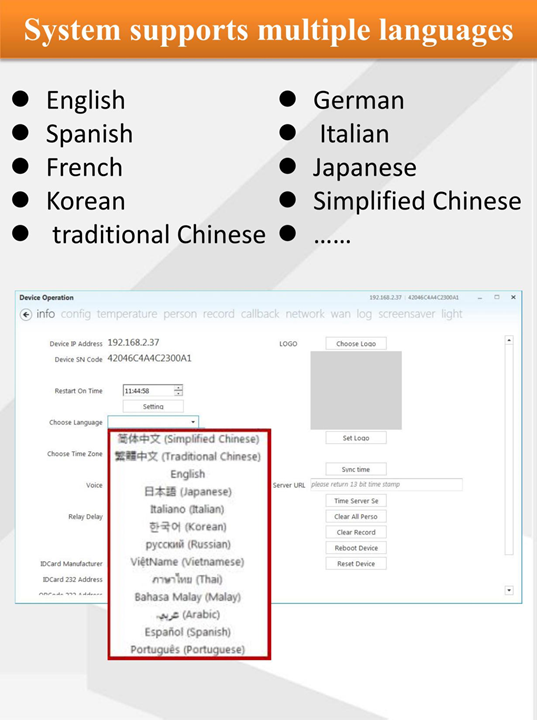 7.Multi-device networking can be unifiedmanagement, long-term online temperature measurement
Machine has a large storage capacity, whichcan record over 20,000 data in a single device, supports the unified managementof multiple devices, and supports long-term non-standby temperaturemeasurement. The temperature measurement data and attendance records willautomatically upload to the cloud platform/local server. The background datamonitors and measures the temperature in real time, and keeps the measurerecord, which is convenient for tracing data and exporting the report ofidentification of people, time, place, temperature and other data.
8.Can adjust the panel angle to fit thedifferent person height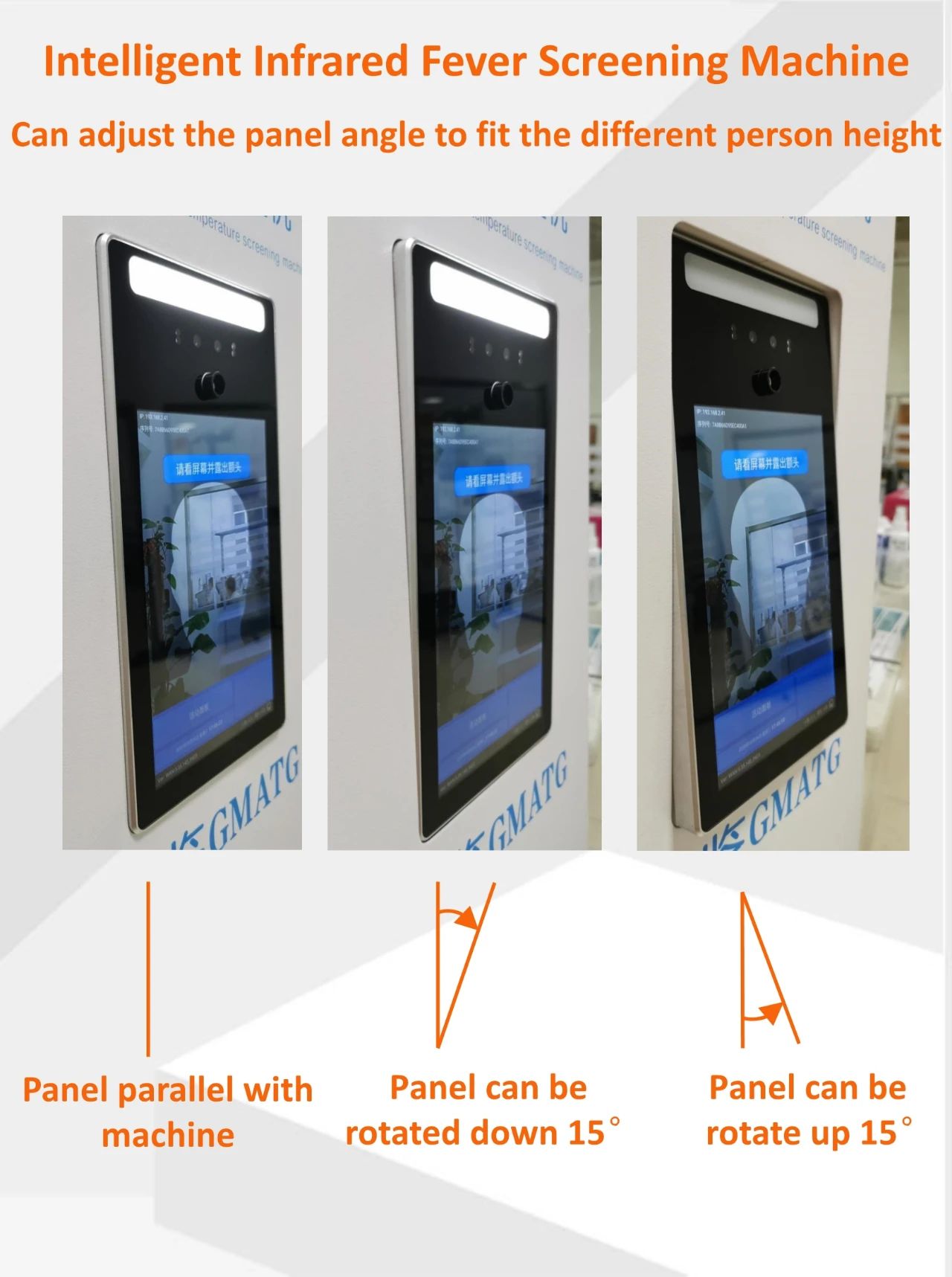 Product parameter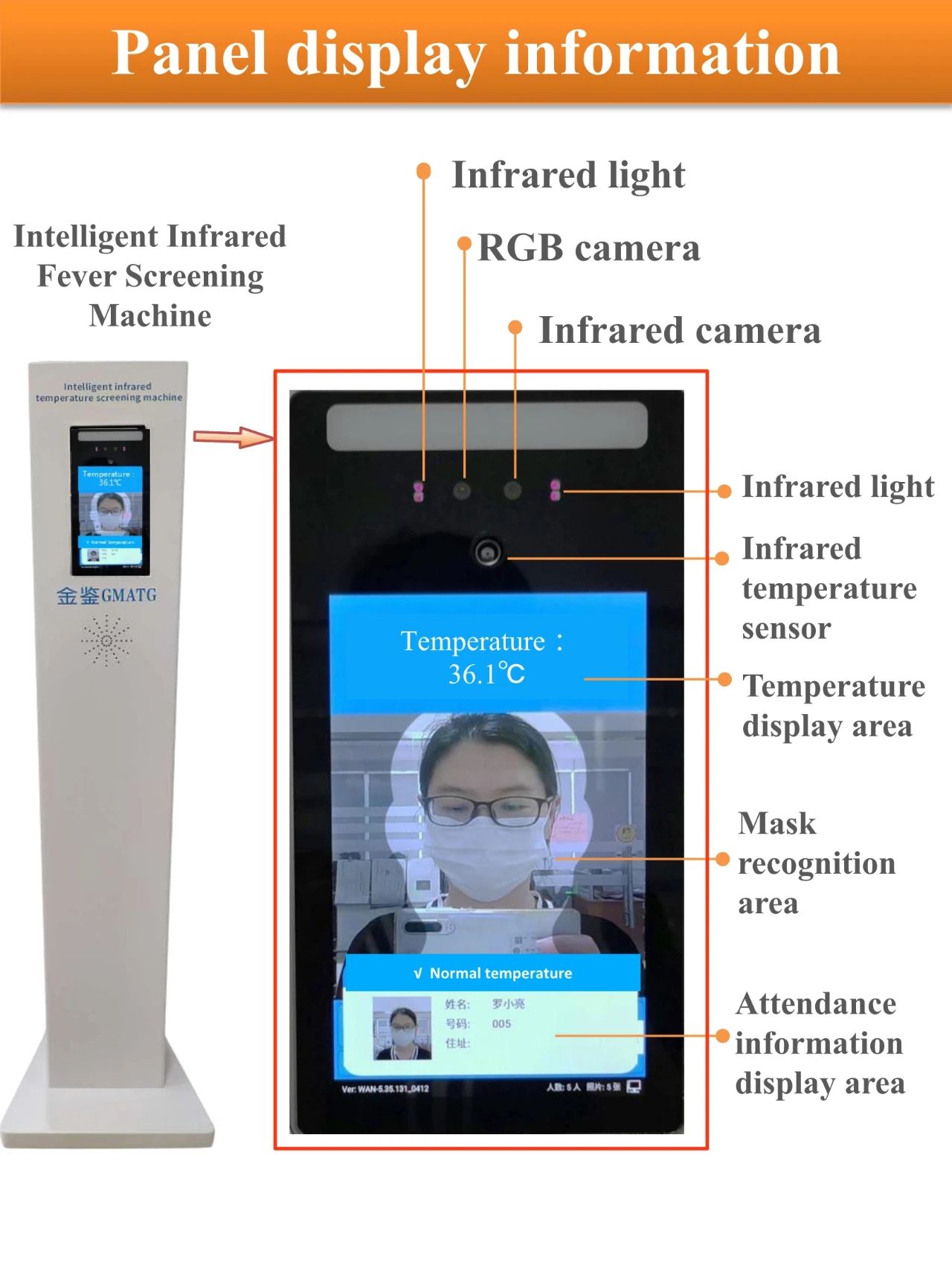 Precautions for use